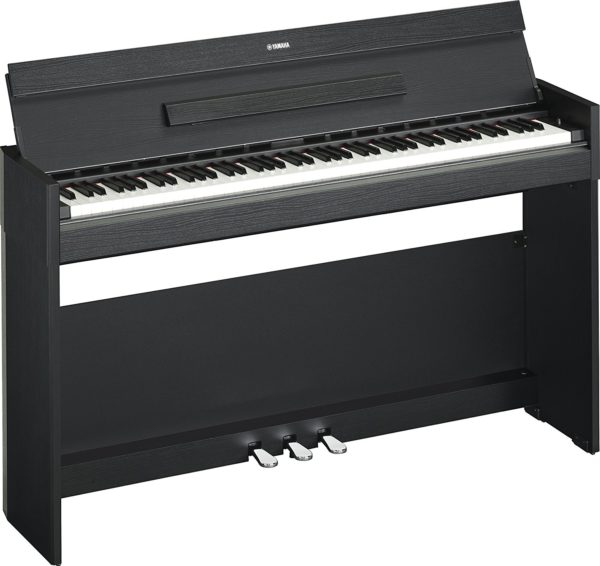 If you are on the lookout for a stylish design and melodic sound in your piano, well Yamaha S52 will never fail to impress you. A brilliant creation of Yamaha, the leading keyboard plus digital piano manufacturer, the Yamaha YDP-S52 is a stylish and solid instrument. Loaded with real piano sound, it is available in black walnut and white wood tinge colors that easily matches with your home furnishings.
This 88-key keyboard has Graded Hammer Standard key action, which gives you the genuine feel of acoustic piano keys. The handmade keyboard imitates a real grand piano and has a sleek user interface.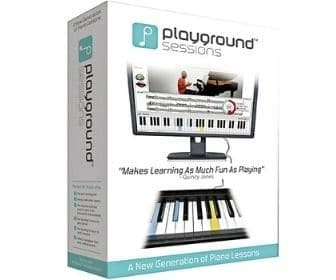 The Distinction Between Graded Hammer Standard Action Keys and Graded Soft Touch Pianos
Most stage pianos or digital home pianos currently feature velocity sensitive keys. When you begin pressing the key to the time the key strikes its bottom stationery point during playing, the computer algorithm estimates the precise time. This difference of velocities determines the matching loudness and timbre of a played note.
For instance, on pressing gently it will play faint and soft, while a hard press brings out a loud and distinct sound. The distinction between the two prominent key action is:
Graded soft key pianos carry silicon or rubber supports below each keys that has precise resistance to copy the pressing pressure needed to depress the key of the actual acoustic piano. You must apply nearly 5oz. of pressure to depress them as they are more firm than those employed in synthesizers.
Graded hammer which constitute dummy hammers, on the other hand, are different. Certainly hammers that simply add resistance to the keys action and they hit the rubber matting to reduce the hammering sound while playing.
You receive the advantage of carrying the true feel of acoustic piano keys with graded hammer keys. Unlike rubber and silicon which offer uniform hardness from the start of key press till the key touches the bottom, hammer action provides the experience of the keys being seemingly joined to a swinging hammer. This gives the genuine feel of an authentic acoustic piano as their keys outstrip the inertia of hammers at rest.
For graded action keys bass notes will contain a heavier action while treble notes carry a lighter action.
The Main Features of the Yamaha YDP-S52
You get the following features with the Yamaha YDP-S52:
Superb quality piano, ideal for players of every level
Sleek and compact design
Graded Hammer action keyboard with 88 note and synthetic ivory keytops
Genuine piano sound, typified from CFIIIS concert grand of Yahama
1 song and 2 track recorder
3 pedals comprising Damper, Soft and Sostenuto
Folding-type keycover
Ten built-in voices
Ten demo songs and fifty piano default songs
Split or layer function
192 Note polyphony
Transpose
Inbuilt metronome
2 x Headphone input
Double function, excellent for a teaching surrounding
Intelligent Acoustic Control
Stereophonic Optimiser
Four categories of concert hall reverbs
Simple operation by Digital Piano Controller app of Yamaha with your iPad or iPhone
2 x 20w Speakers
Furnished with a power adaptor and fifty Greats for Piano (Music Book)
Basic assembling is needed
In-depth Look At The Yamaha YDP-S52
How does the Yamaha YDP-S52 match up to other portable pianos within the same price range? Here is an in-depth look at some of its main features:
Adorn Your Living Room With Music
Compact and Stylish, the Yamaha YDP-S52 delivers genuine piano performance in a trendy, practical design. You get the perfect complement to any room with its two models of black plus white wood finishes.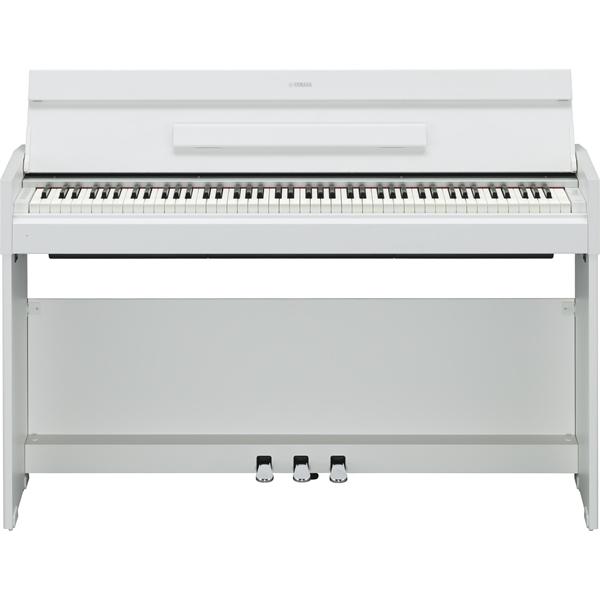 PureCF Sound Engine Offers Harmonized and Expressive Voices
The YDP-S52 is loaded with a PureCF sound engine. This piano sound has been recorded from Yamaha's famed CFIIIS concert grand piano, heard on auditoriums the world over. It also furnishes a genuine performance experience, enabling rich, natural echo even on complex passages with bursts of notes and heavy use of the pedal.
Both during home practice or while taking lessons, the YDP-S52 allows you to enjoy relaxed, tension-free playing.
A Synthetic Ivory Graded Hammer Keyboard Delivers True Acoustic Piano Playability
The S52's playability is difficult to surpass with the heavy touch of the graded hammer keys. This delivers the effect of playing an authentic grand piano. The lower notes on the keyboard seem bulkier in weight, and as the notes alter and start increasing, the key weight gets much lighter.
You can enjoy genuine grand piano touch with the grasp of the YDP-S52's synthetic ivory keyboard. The keys soak up moisture from your fingers during playing to avoid slipping and maintain you comfortable.
Containing Yamaha's Graded Hammer Standard key action, the 88-key keyboard was hand designed to emulate a real grand piano with user-friendly interface. Moreover, the keyboard also carries  pedals, in order of left to right, the soft, sustaining and sostenuto pedal. You obtain the entire range of awesome effects of the real instrument with this control interface.
Reverb That Recreates The Exclusive Ambience Of A Broad Range Of Performance Venues
Whether you are performing in an acoustically designed room or a small and non-revererant area, you can utilize the PureCF engine sound of the YDP-S52 to the maximum. These professional quality effects recreate the natural echo heard in concert halls and different performance venues. Enjoy the environment of concert hall renderings, live gigs in jazz  clubs and much more, all within the comfort of your individual home.
The Recital Hall setting furnishes distinct reverberation as heard in middle-size hall employed for piano recitals. The Concert Hall setting sports a bright and enthralling reverb sound, as witnessed in big concert hall for orchestral performances.
The Chamber setting is ideal for playing chamber music, with the intimate reverb sound of a large room as seen in classical music recitals. Finally, the Club setting imitates the lively reverb sound at a live music event or jazz club.
httpv://www.youtube.com/watch?v=JktJt6NzLGE
Stereophonic Optimizer – A New Sort of Headphone Experience
Exclusive to Yamaha, the Stereophonic Optimizer modifies the sound while listening with headphones, affording the experience that your're hearing the piano without the headphones on!
Intelligent Acoustic Control (IAC)
The Yahama YDP-S52 contains IAC that alters the sound instantly, enabling performers to experience harmonized sound at all volume stages.
Acoustic Optimizer
The YDP-S52 framework carries Acoustic Optimizers which physically control the movement of control tone and audio. A latest technology built from Yamaha's deep understanding of the acoustic characteristics of musical devices, Acoustic Optimizers furnish a natural, gentle sound over the whole keyboard.
Easy Operation Employing The Free Digital Piano Controller App
You can manage the various functions incorporated in compatible Yamaha digital pianos with your iPhone or iPad with the special free app, "Digital Piano Controller," for convenient operation. Furthermore, Voices, Reverb and different configurations can be chosen while viewing the screen, rendering it simple to enjoy latest functions with ease. Your favorite settings can also be saved for fast recall at all time.
Save Energy With Easy Auto Power Off Feature
The instrument gets shut down after a duration of inactivity with Auto power off. You can customize the time it will remain suspended before shutting down, or disable it altogether.
Connectivity
You have complete control over your sound and effects directly in the palm of your hand. There are various Apps compliant with this keyboard enabling you to write, record, and sample your music for any genre your are operating in.
The Yamaha YDP-S52 comes filled with 900 KB of internal memory enabling the user to upload till ten songs into their computer with complete convenience. Additionally, it is also equipped with 2 regular stereo phone jacks to output your sound to any desired speaker system.
The keyboard incorporates USB to HOST connectivity and only utilizes nearly 14W of electricity when utilizing a PA-300C AC adapter.
Sound
The Yamaha YDP-S52 features 3 wonderful piano sounds and 7 different instruments for a total 10 voices. Certainly, you get a decent range of tones and sounds to pick from. You obtain an extensive and extremely balanced sound.
With a keyboard pumping 40W of power across the speaker system, the clarity will blow you away. Surely, the professional efficiency delivered across the board simply makes it impossible for you to miss that perfect note. Its absorbed in deep rich bass with broad low end and gorgeous high end for that clear treble.
You obtain the advantage of an awesome sound enclosed in a modern package at that price which is suitable for all player levels. This is a powerful instrument in your arsenal both for home learning and playing local gigs.
The Competitive Aspect of the Yamaha YDP-S52
A lot of competition undoubtedly lies in store for the Yamaha YDP-S52. Yamaha has dominated the digital piano world for a considerable duration, so designing such a superb keyboard for any grade of musicians was certain to to turn a few heads.
The following discusses some of the competition which the S52 faces:
Yamaha YDP-S52 Vs Casio PX-860
The single major selling point of the Casio PX-860 is its price. It lies online for an average total of nearly $800 as against the S52, which is presently priced at $1349.99 on most leading online music retailers.
The body design of the PX-860 is much heavier, making it harder to move around. You will also find storing it in your living area a bit harder due to its sheer size.
You are still receiving a nice quality sound here, but in comparison to the Yamaha YDP-S52, spending a few bucks more might be worth it for the extra style and quality.
Yamaha YDP-S52 Vs Yamaha YDP-143
One of the biggest disadvantages of the YDP-143 as against the S52 would be the absence of touch sensitivity. The two pianos resemble each other in a number of ways, but the S52 offers more control in matters of feel and touch.
Nevertheless, the YDP-143 possesses fantastic connectivity. If you are a producer attempting to record MIDI data live, this keyboard will directly record into any digital audio workstation which you choose via USB.
Yamaha YDP-S52 Vs Yamaha YDP-163
This piano is among the higher rated rivals of the S52, though they are both held with the Arius lineup. Even so, the biggest distinction between the two lies in the total weight. The YDP-163 weighs 92.5 lbs., whereas the S52 weighs about 10 pounds less.
The YDP-163 also possesses an attractive body style. It is described as an upright piano as it apes the harp standing upright rather than flat like the grand piano.
Yamaha YDP-S52 Vs Yamaha YDP-181
The YDP-181 is another extraordinary digital piano. It possesses a wonderful rosewood finish, thereby constituting an outstanding piece to keep in any room of your home. Certainly, the key distinction of this specific digital piano lies in its supporting just 128 note polyphony, though it is superb for practical use in the matter of digital pianos.
The Verdict Of The Yamaha YDP-S52
The Yamaha YDP-S52 is an awesome purchase for anyone seeking a wonderful sounding digital piano. You don't need more pricey digital pianos, like spending thousands more for an acoustic piano that must be constantly tuned.
The piano is shipped in a large box and requires some amount of assembly, so be ready. But after that's finished, there's a high chance that you'll find your choice worthwhile.
A recent model for 2015, the Yamaha YDP-S52 is a revamped version of the reputed YDP51. It provides a nice balance of specification and price range, sharing similar sound engine and functionality as the YDP162, but in a more slimline case. There is a responsive play of action, the speakers equal the quality of the acoustic piano samples quite well and this upgraded model can be monitored by the latest Yamaha Digital Piano Controller app for iOS gadgets.
In conclusion, a worthwhile purchase if your budget is sub-£1000 which competes well with the Casio Privia PX-860.
Purchase This Product On Amazon
Save
Save
Save