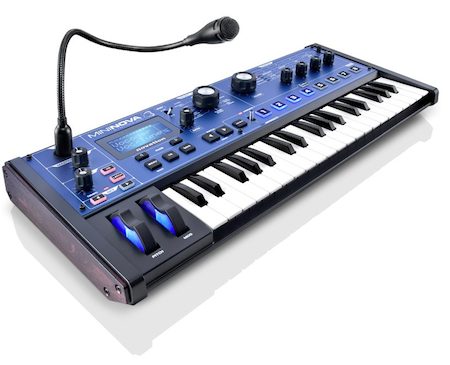 Novation is a major brand in the booming synthesizer market. The Novation MiniNova Review evaluates the microsynth, a versatile 37 key sound creating machine which is loaded with features. It is designed on similar sound engine as the front runner UltraNova. Additionally, it carries 256 onboard sounds, 18 note polyphony and versatile connectivity consisting of MIDI and USB ports.
Moreover, it includes an inbuilt gooseneck mic to be employed with the incorporated VocalTune and vocoder options.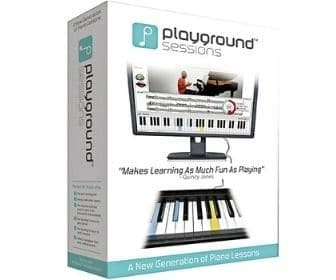 The Main Features Of The Novation MiniNova
UltraNova Sound Engine
The Novation MiniNova carries the signature Nova-series synth-engine. This handles effectively the production and editing of huge sounds incorporating up to 18 voices and powerful effects.
VocalTune Vocoder
It creates robotic voices and iconic vocals, or operate your devices with the effects engine.
Tweak and Warp Sounds in Reality
You can optimize your sounds in actual time through 5 knobs. You can even wholly warp them over 8 Animate buttons and gigantic pitch plus modulation wheels.
256 Amazing Onboard Sounds
Find sounds immediately by musical genre or category ranging from bass and house to hip hop. Further, you can collect 128 of your personal sounds onboard also.
Arrange Your Effects
Insert about 5 effects to every voice. This includes distortion, reverb, chorus or phase, delay, compressor and EQ and our personal gater stutter effect
Editing Application and Patch Librarian
Completely edit your synth and effects, and gather any number of sounds on your Mac or PC.
Vintage Synth and Bass
You can download common free soundpacks designed by prominent artists and sound creators.
Trigger Software Devices
Activate external sound modules and attach bigger keyboards, by means of MIDI I/O.
httpv://www.youtube.com/watch?v=cTa3wayIphs
Indepth Look At The Novation MiniNova
Novation's recent contribution is a member of its Ultranova synth, known as the MiniNova. Applicable both in the studio and on stage, it carries its elder brother's sound engine, but with a tinier form factor.
Appearance and Feel
The Novation MiniNova is tiny and lightweight to be transported in a backpack besides a laptop and feels sturdy to use. The 37 keys are tiny, but the unit is extremely portable. This difficulty of small keys can be overcome by attaching to an external MIDI keyboard having bigger keys.
There are a number of ports at the rear consisting of MIDI in/out, headphones and stereo jack outputs. Additionally, a sustain pedal input besides external audio in jack for is included with the synth's effects segments. In like manner a Kensington lock port is also offered to stop its public misuse and a power supply is also included.
The Novation MiniNova can extract power and dispatch MIDI over USB. Nevertheless, this is confined to dispatching MIDI from the synth to the computer and it doesn't operate as an interface from the computer to the MiniNova's hardware MIDI ports. Furthermore, audio across USB is also missing which would have converted the unit into more of a mobile studio.
Vocoder Capabilities
An XLR microphone input on the forward panel can be utilized to attach a gooseneck mic if you want to employ the synth's vocoder and VocalTune abilities. Although a mic is not contained in the box but it may probably not be used by all.
The Novation MiniNova renders the vocoding process easier offering a number of presets to manipulate your voice. VocalTune can deliver actual time pitching effects which are quite simple to use.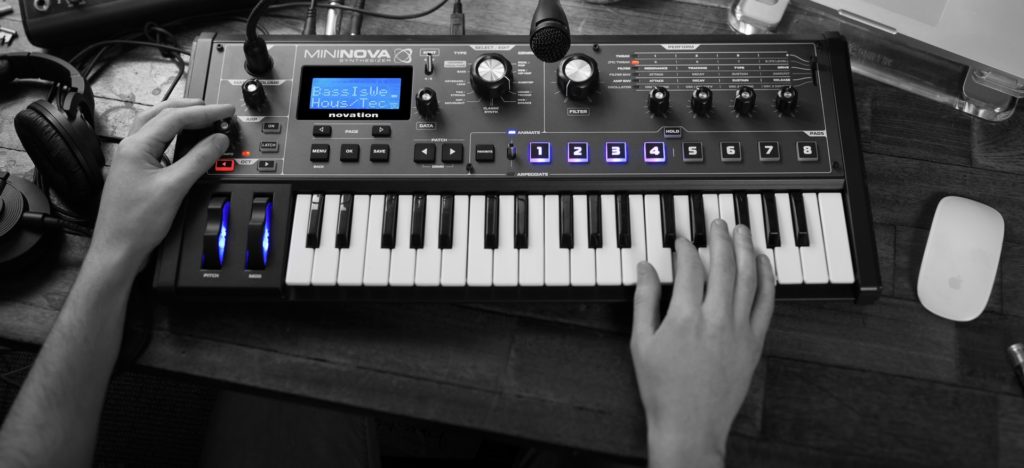 Synth Star
MiniNova comprises a synthesizer and considering it has 256 inbuilt sounds available in categories from the big select dial and with the Patch buttons. These are classified into genres and varieties, including a Classic Synth alternative.
As true of Novation MiniNova, the sounds are superb with various burbling basses, swirling pads, cutting leads and shimmering synths for entertainment. It is not unusual to see a big filter cut-off knob put firmly in the middle of the front panel to obtain the traditional fat sound. Further, the 128 onboard slots let you save your personal sounds, with the choice to apply till 18 voices.
There is a Perform segment on the right with 6 choosable parameters, and 4 knobs that influence the parameter being currently selected. This makes it fast and simple to effect alterations in filter, amp  or oscillator configurations besides tweaking effects.
Animate Effects
The Animate function enables altering of sounds in actual time. You can light up to eight numbered pads by switching to Animate mode.
You can alter the sound in a predefined manner by pressing one, and you will be able to record your personal animations and collect them. These can include dropping an additional voice in or out of the audio, inserting transpose and portamento, or applying effects to a sound.
This indeed functions well, with the idea to punch the buttons during a real performance to morph sounds briefly, generating a DJ-style impact.
An arpeggiator containing tempo control and Latch mode is also included, and the 8 pads illuminate in red signifying the steps to be included. The steps can be switched on or off by striking the pads. The arpeggiator type can be modified apart from different settings like chord mode, sound tweaks and audio input utilizing the Menu system and the decently sized LCD screen, which is sufficiently large to offer legible text feedback.
A software editor is also present that operates in standalone mode and like a plug-in within your DAW to deliver easier entry to all the synth parameters.
httpv://www.youtube.com/watch?v=gn5zKyZf98Q
Sound Generation
MiniNova's sound creation includes 14 traditional waveforms, 36 wavetables and 20 digital waveforms. Moreover, each of the 3 oscillators has density and detune configurations for amplifying sounds, virtual sync and hardness. It includes 14 filter varieties, 2 of which can operate simultaneously, 6 envelope generators, 3 LFOs and twenty modulation slots, enabling you to connect modules of the synth engine together to design sound.
Five sound effects can be employed comprising distortion, reverb, chorus or phase, delay. compressor and EQ or Novation's Gator effect. Moreover, you can edit all of them within the unit itself, though you can speed it up with the program application.
The free goodies with Novation consist of  a version of Ableton Live Lite to make you begin composing music along with a software version of its wonderful BassStation, which sounds new even now. Additionally, 1GB of royalty free samples from Loopmasters is also available for you to add some value.
httpv://www.youtube.com/watch?v=uvDfHhuFF5w
The Verdict For The Novation MiniNova
In Conclusion, the Novation MiniNova has superb sounds and is easy and fun to play. Additionally, it possesses excellent live performance  and animate feature.
You can also route audio in and the synthesizer also comes with awesome bundled extras.
However, audio over USB would be the crowning glory. Besides, the Novation doesn't operate  as MIDI interface for outer kit.
Overall, it is a fun and excellent sounding synth with great live performance features and perfect for all types of electronic music.
The user interface, sound quality, versatility and power are indeed amazing regarding its extremely compact size and rather affordable price. Certainly not ideal to play Rachmaninov or Herbie Hancock. If you are seeking a compact, easy to use and strong synth to play in the studio or onstage and have a passion for electronic sounds, the Novation MiniNova is the thing for you.
Purchase This Product On Amazon
Save
Save
Save
Save
Save
Save