The Yamaha P45 represents Yamaha's entry-level digital piano. This is the latest model, replacing the P35, aimed that people wanting to buy an affordable digital piano. It is a definite improvement from the P35 and has new features added, making this a great piano if you have a tight budget.
The Yamaha P45 is a portable piano, weighing in at only 25 pounds. It also comes with the full range of 88 keys and despite being a budget piano, it has Yamaha's Graded Hammer Standard keyboard. In fact, it is the same keyboard that is found on some more expensive Yamaha models. The keyboard feels very close to an acoustic piano.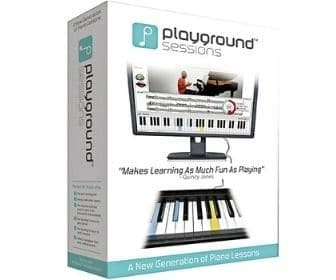 In comparison to its predecessor, the P45 has new improved connectivity added in the form of a USB port. A significant upgrade has been to double the polyphony from 32-note to 64-note.
If you're looking to buy an entry-level portable digital piano, why should you buy the Yamaha P45?
List of Best Digital Piano From Yamaha
| Picture | Model | Keys | Weight |
| --- | --- | --- | --- |
| | | 88 | 25 lbs |
| | | 88 | 26 lbs |
| | | 88 | 36.4 lbs |
| | | 88 | 52.3 lbs |
| | | 88 | 36.4 lbs |
The Main Features of the Yamaha P45
What are the main features of the Yamaha P45? Here is what you get:
Full-size keyboard with 88 keys
Graded Hammer Standard keyboard
Sustain pedal
64-note polyphony
USB and headphone socket
Touch sensitivity options
10 preset voices
In-depth Look at the Yamaha P45

What makes this digital piano a great entry-level piano for everyone?
Weighted keys
Yamaha has done a great job in producing keyboards to resemble acoustic piano keyboards as close as possible. This is thanks to their Graded Hammer Standard technology. What this means is that, just as on a 'real' piano, the keys at the lower end of the keyboard are a little heavier than those at the high end. So, if you have been used to playing on an upright acoustic piano, you will find it easy to adapt to the P45.
The digital piano also has a fullest of 88 keys. So, again, if you already play the piano, you will find this just as easy to play.
There are also 4 sensitivity levels that can be used when playing. These are: soft, medium, hard, and fixed. Because this is a lower-end model, the keys do tend to be a bit noisy if played at a lower volume. But, that is a something common to most entry-level digital pianos.
Sound quality
One of the major changes from the previous P35 model is the fact that Yamaha has increased the polyphony. The P45 has 64-note polyphony. Although some may feel that this isn't enough, this is actually more than other digital pianos in the same price range. The 64 notes are more than enough to play any chord and also use the sustain pedal effectively.
One nice feature of this budget model is Yamaha's 'Advanced Wave Memory Stereo Sampling.' This helps in producing a more realistic sound in stereo.
Although this digital piano is in the lower price range, it doesn't compromise on sound. The sounds that you create playing the piano are just like an acoustic piano.
Connectivity
The Yamaha P45 has a built-in USB port which allows connection to a computer or iPad. This was something that the P35 was lacking. This is an important feature because the P45 has no built-in recorder. So, if you want to monitor your progress, or record yourself playing, you can do this through the USB connection.
Being on the budget end of digital pianos means that the MIDI port has been left out. However, it is possible to connect a MIDI USB device to the piano, thus allowing the keyboard to be connected to a computer with MIDI functionality.
Also, there is no audio line-out jack, so, the unit can't be connected to external speakers unless you do this through the standard headphone connector.
httpv://www.youtube.com/watch?v=eAtn5GPt-U4&t=97s
Other Features of the Yamaha P45
Even though this digital piano is one at the lower end of the price range, it doesn't mean that it is lacking in features. There is certainly enough to keep anyone entertained.
It has the ability to play two voices at once. So you can play along with accompanying music, like strings or a beat. You can also play in dual mode; this allows the pianist to play piano with one hand and strings with the other. Or this can be useful for teaching the piano to students.
The piano also boasts 10 voices, and while this isn't as much as more expensive models, it is certainly enough to get started with.
Which is better – the P35 or P45?
If you already have the P35 model, it doesn't make sense to upgrade to a Yamaha P45. This is because there are not enough different features to separate them. If, however, you are looking to purchase a new digital piano, then the P45 is definitely the best option.
The two main differences between the two models are:
The P45 has a USB connection, allowing for recording and other uses.
It has a larger polyphony.
The Verdict of the Yamaha P45
If you are looking to buy a budget digital piano with a full-size keyboard, then the Yamaha P45 is a very good buy. This model is designed well enough to be affordable for most people while at the same time deliver high-quality sound.
The price of the P45 is actually quite similar to a keyboard. So in terms of features and price, this is much better than a keyboard.
The P45 will probably appeal to beginners who are in the market to buy their first digital piano. It is also a good enough instrument to appeal to experienced pianists who have a more limited budget.
So in conclusion, if you need a digital piano capable of producing a sound just like a real piano and you don't need a lot of the 'gimmicks' that come with higher end models, then this could be the piano for you.
It has a full-size keyboard which feels just like an acoustic piano and produces excellent sound.