The Williams Legato 88-key digital piano is a digital piano which is reasonably priced and suitable for all piano players with all levels of experience. The low cost and features mean that it is more designed with beginners in mind or for those who are on a limited budget.
The Williams Legato represents true value for money because you get a digital piano with 88 keys and a full range of octaves. It is an excellent digital piano for any piano student because the keys are semi-weighted, which means that you get the feel of playing a professional grand piano.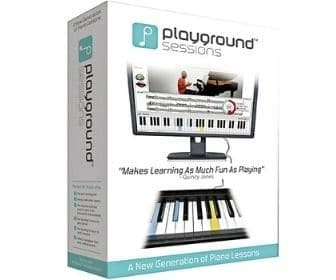 So what makes the Williams Legato 88-key digital piano one worthy of consideration? This review looks in-depth at all the features of the Williams Legato digital piano and also what the pros and cons of buying it are.
What are the main features of this digital piano?
The Main Features of Williams Legato 88-key digital piano
What do you get when you buy the Williams Legato? Here is a list of the main features you can expect to enjoy:
Full-size piano keyboard with 88 keys
Semi-weighted keys to give a real feel to playing
32 notes of polyphony
5 voices
Split mode keyboard
USB, Line out, and MIDI In/Out connectivity
Headphone jack
Built-in speakers
Digital effects
Battery operated (power adapter sold separately)
Very reasonable price
In-depth Look at the Williams Legato 88-key digital piano

So, how do all the great features of the Williams Legato digital piano look, sound, and feel?
Sound Quality
Considering this is a budget priced digital piano, it sounds really great. Of course, the price range does somewhat limit the quality of sound. For example, the quality of sound tone at the high and low ends of the range suffers from a slight loss of quality. However, for beginner and intermediate piano players, this will not be noticeable. Generally, the piano has a nice sound and has really nice deep bass tones.
It has to be said that the sound quality is more than adequate for most piano players. The digital piano also offers all the standard MIDI sounds that are featured on entry-level digital pianos.
The two 10w speakers provide a nice sound and the provide adequate volume for playing at home. However, the inclusion of a line-out connection and headphones connection means that you can connect to another external speaker
Reverb and Chorus
The digital piano also features the standard reverb and chorus features which can be turned on for each voice individually. The digital piano has a memory function, so the effects will stay there even if the piano is turned off.
The Keyboard
One really nice feature of the Williams Legato digital piano is that it has a split mode keyboard. This allows the keyboard to be split into to independent sections and each section can be assigned a different voice. The volume can also be adjusted independently
The split mode is useful for learning with a piano teacher or you can use it to play different voices with each hand.
Although you don't get the same feel as you get with the top of the range digital pianos, you do get semi-weighted keys which actually feel very similar to a real piano. This allows the piano player to play with feeling and it is much better than playing with a cheaper digital keyboard.
Connectivity
Another nice feature of the Williams Legato digital piano is that it comes with a USB connection. This allows the user to connect to other music programs and devices. Although the digital piano doesn't come equipped with a built-in recorder, you can record to a separate device through the USB connection.
The digital keyboard is battery operated and to connect to the power mains, a separate power adapter has to be bought separately.
It is possible to purchase the Williams ESS1 Essentials Pack for the Legato Digital Piano. The pack contains the necessary power supply, a pair of headphones, and a sustain pedal.
httpv://www.youtube.com/watch?v=Su_FTZDNfZk
Who is The Williams Legato Digital Piano For?
The Williams Legato digital piano is a great option for beginners who want to start playing the piano. The full range of 88 keys makes it the ideal choice for playing the piano rather than a 5 or 6-octave instrument with lightweight plastic keys.
It is well suited to older children who are serious about playing the piano. This is because is doesn't have a lot of distractions of extra settings. It is not so much suited for young children because they tend to like playing a keyboard with lots of different sounds and learning to play along to pre-recorded songs.
Pros and Cons of the Williams Legato 88-key Digital Piano
Pros
Very easy to learn how to use because of its basic features
Lightweight, full-size keyboard
Keys respond very well
Easy to transport
Inexpensive compared to other digital pianos
Cons
No built-in recorder
Limited sound selection
The Verdict of the Williams Legato 88-key Digital Piano
Although the Williams Legato 88-Key Digital Piano lacks some of the features and quality of high-end digital pianos, you have to remember that this digital piano is very inexpensive. This makes it great value for money. So, if you are looking to buy a quality digital piano and have a limited budget, then this is a great choice.
It could also be a great digital piano if you want to use it in a home studio setting. With the MIDI controller and USB connectivity, it can be connected to more sophisticated software to create professional-sounding music.
For parents who want to buy a good digital piano for their children to learn on, the Williams Legato digital piano is a great option. Sometimes children can be excited about learning a new instrument and then quickly give up. The fact that this digital piano is inexpensive means that parents don't have to worry about making a big investment.
There is a lot going for this digital piano as it is one of the cheapest entry-level digital pianos on the market today. Many online reviews from piano players who have bought this digital piano highly praise it. For example, one reviewer said that for a person who is just learning to play the piano it is just perfect
If you are looking for an inexpensive high-quality digital piano with basic features then the Williams Legato 88-Key Digital Piano is a great choice.
Purchase This Product On Amazon