Bought a new Piano? Or already have one. Piano is an amazing instrument for music lovers but having only piano is not sufficient. You need to have relevant accessories to enhance your music experience. There are many things to consider while playing a piano like the sitting posture, types of tunes, piano cleanliness, piano covers when not in use and many more. These accessories will provide a great experience and will to compliment to your style of music. So, here we have some best digital piano accessories for you and also few things to consider before you buy them.
Things to consider before you make a purchase for accessories:
What is your budget?
Your environment and style of playing
Are you learning piano? Then how dedicated are you?
Does your piano needs extra keys?
Do you have proper sitting arrangements for playing piano?
Are you comfortable with your current piano settings and arrangements?
Do you have proper furniture that looks good and is in good condition?
How often do you clean your piano?
These are few questions for you to ask yourself before buying the accessories. These questions will decide which accessories you actually need and how they will assist you.
Some best digital piano accessories for a great music experience:
1. Stretchable Keyboard Dust Cover for 88 Key-keyboard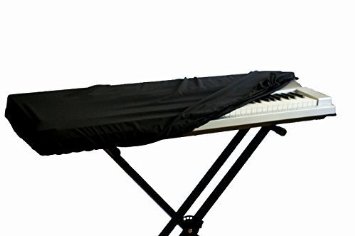 There can be a lot of dust particles on your digital piano. This dust can degrade the sound quality and may also affect the life of your piano. People hardly find time to clean their music instruments, so the best way to keep them clean is to cover them. There are specific covers made for pianos that will cover all the keys of the keyboard and prevent the dust from accumulating on them.
Here we have a great keyboard dust cover:
QMG 4917 Stretchable Keyboard Dust Cover for 88 Key-keyboard that provides an overall ultra premium quality protection for all 88 keys of your keyboard along with the piano. So whenever your piano is not in use cover it with this cover. The cover has an elastic cord which adapts the shape of your piano, so that everything is covered. Also you can wash the cover easily in your washing machine. You can buy this stretchable keyboard dust cover from Amazon.com
Specifications of QMG 4917
Manufacturer: DVN Product
Brand: QMG
Color: black
Model: QMG4717
Material: Nylon
Size: 17 x 6 x 6 inches
Package Weight: 0.3 pounds
Package Size: 8 x 1.6 x 1.6 inches
2. Yamaha BB1 Padded Wooden Piano Bench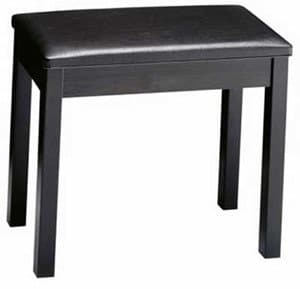 For a comfortable music experience the most important thing is the sitting arrangement. If you are not comfortable your piano bench then you can't play peacefully with your full mind. So you need to have a good comfortable bench. Here we have a quality wooden bench for you.
Yamaha BB1 Padded Wooden Bench
This is an affordable and great quality bench.
Features:
High quality wood used for the bench
Padded seat for your comfort
Easy assembly with just 4-bolts
Great finishing of furniture of black color
Good quality leather used for the seat.
Purchase Piano Bench On Amazon
3. Cherub WTB-005 Digital Piano and Keyboard Sustain Pedal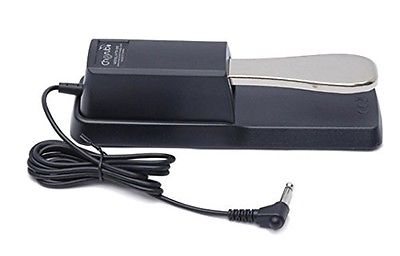 An important feature for playing a piano is to sustain the notes and for this you need a sustain pedal.  A good sustain pedal is Cherub Keyboard Sustain Pedal which is very useful and durable. This is one of the best digital piano accessories and an essential one.
Features:
Cherub Sustain Pedal is a metal body pedal which is designed to suit all types of keyboards
Rubber grip which will stick to the floor when you play
Comes with 1 year warranty also include cable and a jack of ¼ inch
It has a half pedal capabilities due to high quality.
It has an amazing feature of switchable polarity; you can switch the functions to sustain the note while you are not pedaling.
Cherub Keyboard Sustain Pedal Specifications
Dimensions: 21.5cm x 6cm x 4cm.
Cable length: 1.5m
1/4″ jack plug
Metal body with plastic shell.
4. Kootek Portable Clip On Music Light Stand 9 LED Orchestra Lamp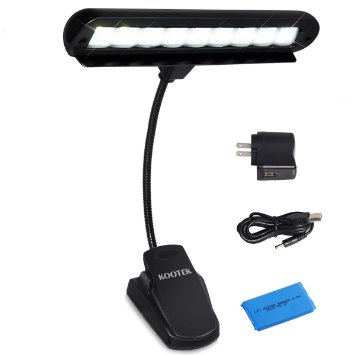 Do you love playing your piano all the time? Even at night some people love to play light music on their piano. In night parties at home piano can be played. One of the best look you can give your piano at night time is an elegant lamp on it. This makes the whole environment bright and classic. Kootek brings to you a portable clip with LED orchestra lamp for your piano.
Features of this lamp:
Portable and easy adjustable lamp which you can carry anywhere
This is a multi-purpose lamp that has a clip which grips on anything.
A wireless lamp with built-in battery
Light weight with elegant design.
Simple one button control
Specifications
Manufacturer:  Kootek
Brand:   Kootek
Contains 9 bright LEDs
Power Supply Modes – 3 modes: AC + USB + Built-in Rechargeable Lithium Battery.
Color: Black
Model: DL05
UPC: 702168107705
Size: 2.69 x 2.36 x 2.36 inches
Package contains
Stand Light(built in rechargeable battery) – 1
USB Cable – 1
1 x AC110-240V power adapter
Buy this multi-purpose and very useful Kootek Portable Clip On Music Light Stand 9 LED Orchestra Lamp at amazon.com This is a multi-purpose lamp, easy to carry while you are travelling. It can be used as a table lamp or can be fixed with a clip, you can use it with your piano or any other musical instrument especially while playing at night.
Purchase Light Stand On Amazon
 Conclusion
So, it is completely on you to decide which accessories you need to make your piano playing experience a wonderful one. Here are some more accessories which you may require Metronome, Keyboard Stand, Power Adaptor, Note Sticker, Castors, USB CD Drive, Keyboard Amplifier, Cross stand, mike and headphones. You can add a number of things when you love music and your piano. The piano furniture is also now a part of luxury and design, you can choose classy elegant furniture which will not only make a great playing experience but will also add to the beauty of your home.  Keeping in mind the above tips you can easily choose the best digital piano accessories.