There can be a number of reasons why you could be thinking whether to buy a digital piano or keyboard and which would be the best one for your needs.
For example, you could already own a keyboard and are thinking about upgrading to a digital piano and can't decide if it is worth it or not. Or, you could be a beginner just learning to play the piano and don't know if it is best to buy a digital piano. Or you could already own a traditional piano and are thinking about investing in a new digital piano.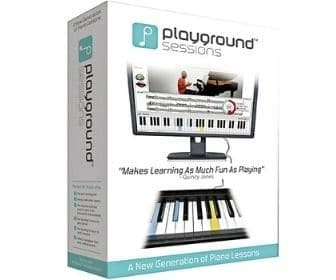 Whatever your situation is, this review will help you to decide which is better for you: a digital piano or a keyboard.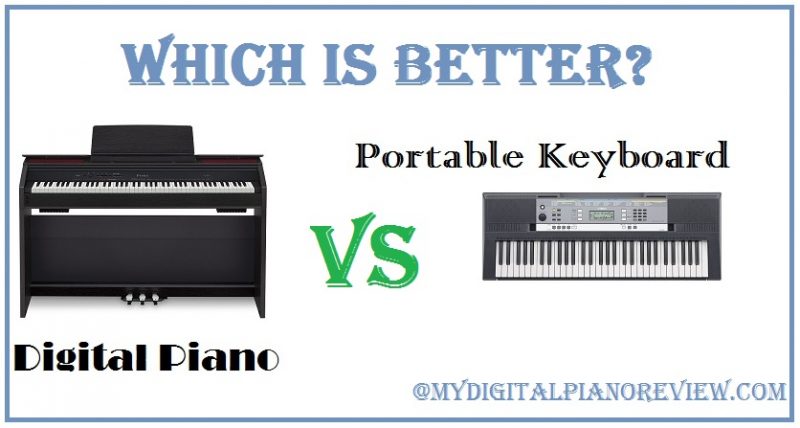 What is the Difference Between a Digital Piano and a Keyboard?
First of all, it is important to understand the difference between a digital piano and a keyboard. Depending on your specific needs one could be more suited to you than the other. And, just because they are different, doesn't mean to say that one is better than the other.
However, there can sometimes be confusion between a digital piano and a keyboard because the row of keys on a piano is also called a keyboard. However, in this review, the term "keyboard" will refer to the musical instrument.
A digital piano is built and designed to be a close as possible in feel and sound of a real piano. When playing top of the range digital pianos it can be very difficult to tell the difference that and an acoustic piano.
A keyboard is more designed for its digital features and portability. Keyboards usually don't have the full 88 keys that a piano has. Also, the keys don't have the piano 'hammer' action but have a lighter feel to them. Although, some high-end keyboards can have keys similar to a digital piano.
Features of Digital Pianos vs Keyboards
This review will now look more in-depth at the differences in features between digital pianos and keyboards.
Size of the Unit
Digital Pianos are large in size and heavier as well. Usually, digital pianos will have all the octaves found on a 'traditional' piano, therefore, the length of it will be around the same. While digital pianos can be portable, many of them are meant to stand in one place without being moved very often.
Usually, digital pianos will come with a stand unit which looks similar to an acoustic piano and they will feature at least one pedal, but usually they have both pedals. Top of the range digital pianos will have 3 pedals.
Keyboards are much smaller and lighter. Usually, keyboards only have between 49 and 61 keys and are very portable. This means that they can be stored much easier as well, and even played on a table top.
Keys
Digital Pianos have keys that mimic the feel of a 'real' piano. Even many of the cheaper digital pianos do a good job of mirroring the feel of a piano. For example, the keys of a piano are fairly heavy and solid. Usually, the bass keys have more resistance and as you play higher up the keyboard, the keys are more sensitive.
In digital pianos, this is called Graded Hammer or Scaled Hammer Action. So, the harder or softer you play a note will be reflected in the volume.
Keyboards usually have lighter keys which have a more plastic feel to them. They usually aren't touch sensitive, so it doesn't matter how hard or how soft you play a note, the volume will be the same. However, that in itself isn't a negative factor; it is just a feature of keyboards.
Sound Quality
Digital pianos excel at sounding just like an acoustic piano. Each brand of digital pianos uses its own system to sample the sounds of high-quality pianos. The sounds are sampled from the top of the range of their acoustic pianos.
One feature of the sound quality of digital pianos is polyphony. This is the number of notes that can be played at the same time. Basic digital pianos start at 32-note polyphony and go up to 192-note polyphony. However, for average piano players, 64-note or 128-note polyphony is usually enough to play beautiful music.
Keyboards usually have an inferior sound when it comes to sounding like a real acoustic piano. However, what keyboards lack in mimicking an acoustic piano they make up for in a wide range of other sounds, voices, and effects which are not a feature of digital pianos.
Cost Digital Pianos vs Keyboards
Digital pianos are more expensive than keyboards. However, this is because you are buying an item which is very close to the real thing. Entry level digital pianos can cost as little as $300. But if you want a good digital piano, expect to pay between $500 and $1,500 for it.
Keyboards are much cheaper starting at around $50. However, for a good keyboard, you should expect to pay somewhere between $150 and $300.
The Bottom Line on Digital Pianos vs Keyboards
In the end, it all comes down to what you want to accomplish with your piano or keyboard.
If you want to learn to play the piano and you enjoy playing beautiful and intricate tunes, then a digital piano will be your best choice. Even if you are learning to play the piano, it is better to buy an entry-level digital piano. This is because you will also learn how to play notes as you would on an acoustic piano. However, digital pianos, even the entry-level pianos, will be more expensive than a keyboard.
If however, you are more interested in making digital music or recording your music in a home studio, then a keyboard will suit you better. This is because keyboards are more portable and have a wider range of special effects which you won't find on digital pianos. Also, if you are on a limited budget, then a keyboard will work out cheaper for you.