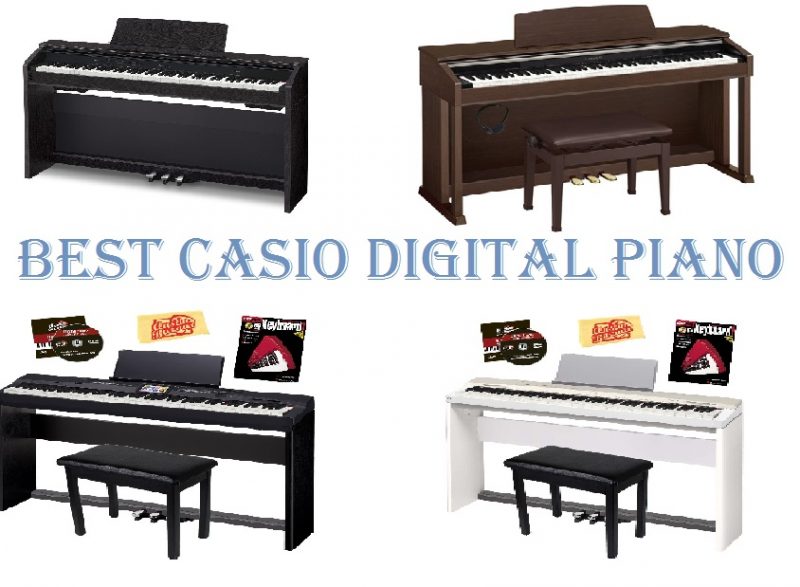 When it comes to the best digital pianos one brand name comes to mind and it's Casio. As one of the leading manufacturers of modern electronic devices including various musical instruments, Casio has been in the forefront in providing quality products.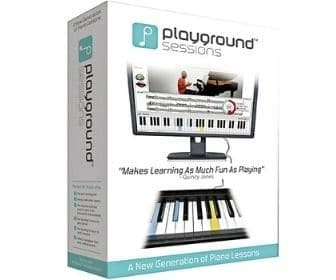 The best Casio digital pianos are the result of innovation in design and technology which will ensure the best quality sounds and fulfilling piano playing for many years to come. That is why practical piano buyers choose the best casio digital pianos which they can enjoy at home or on stage.
Advantages of Owning the Best Casio Digital Piano
There is no denying that consumer developed deeper sense of trust to the Casio brand knowing that they are getting their money's worth considering the technological expertise devoted to the manufacture of each individual casio digital piano. With a reputable brand name that has loyal patrons, a new buyer is sure that they will get the best value for their money.
Owning one of the best casio digital pianos is truly satisfying in terms of design aspects. Each digital piano has various functions and settings that will nurture piano playing ability especially for novice and inexperienced piano users.
Casio digital pianos come in compact designs that will suit any living space or home. These best casio digital pianos can be easily moved from area to another without so much effort. When it comes to piano playing outside the house, transporting a Casio portable piano is such a breeze.
Also Check:
The Best Casio Digital Pianos
Casio Privia PX-850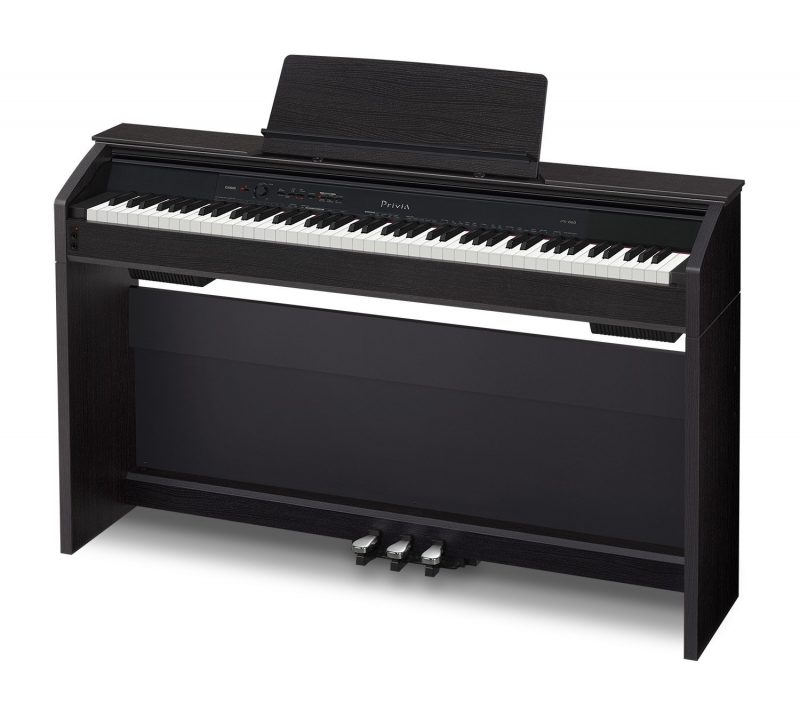 The CASIO PRIVIA PX-850 is the leading model among the Casio digital pianos Privia line that features amazing sound quality output that sets this unit apart from all the rest. With an innovative and advanced AiR Sound Set that will provide added level of realistic grand piano simulation and resonance, this 88 weighed key digital casio piano boasts a 20-watt dual speaker system encased in a classic cabinet for optimum concert sound quality.
The PX850 has the 3-pedal unit consisting of damper, soft and sostenuto. An added new lid simulator feature that allows the top piano portion to be lifted just like real piano can provide clear and crisp piano sounds unlike other casio digital pianos. A stunning work of art, the Casio Privia 850 commanding presence provides the look and the feel of playing in an upright piano. It is a perfect mix of classic aesthetic piano look and engineering marvel of Casio.
Buy Casio Privia 850 On Amazon
Casio PX-360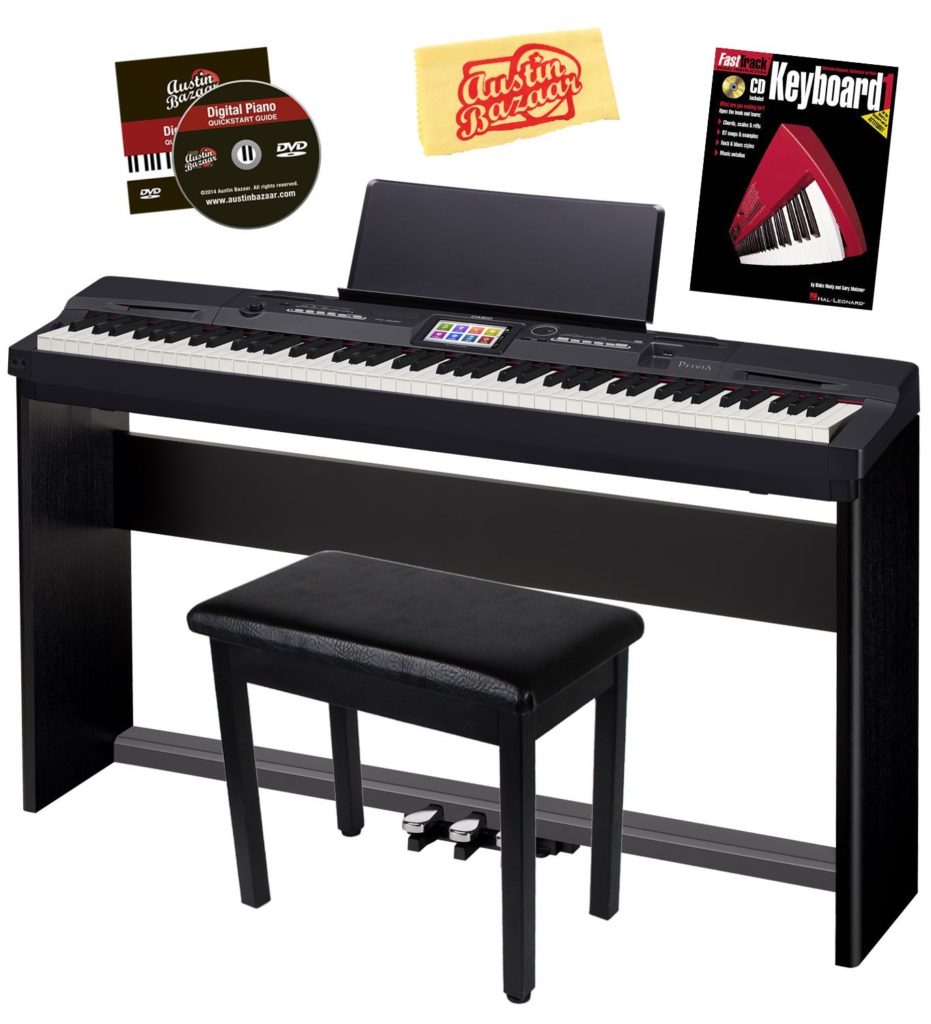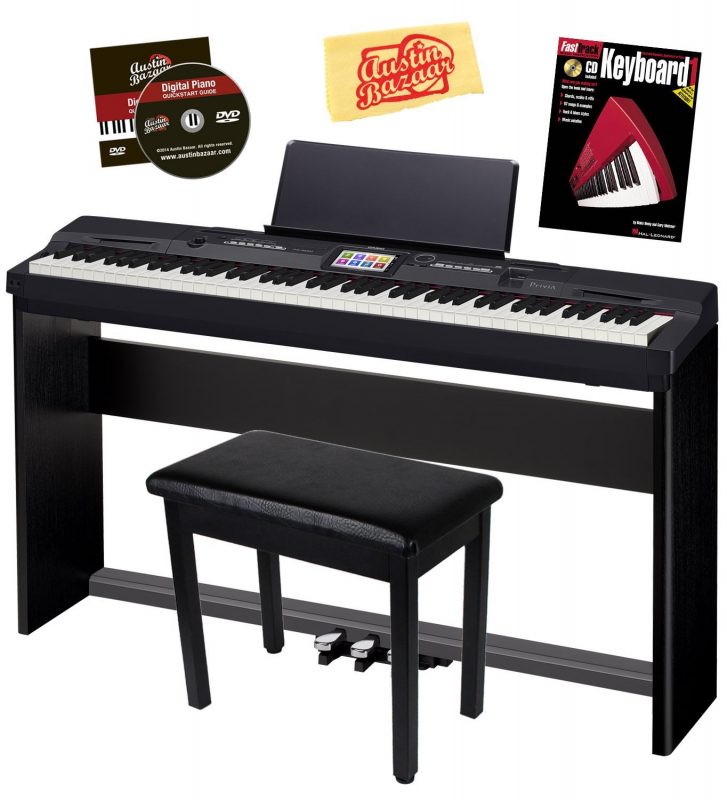 The CASIO PX-360 comes is the portable version of the best casio digital pianos that comes with a full 88-weighted scaled hammer action keys with triple sensor functions. It can perfectly emulate the sound and the true feel of an acoustic piano with its third sensor with a unique key bed.
Featuring the exclusive Casio's 4 Layer Stereo Grand Piano Sound with classic ebony and ivory keys enhance the sound quality and experience. A preloaded 305 piano lesson functions as well as other features are easily accessible via the 5.3 inch LCD color touch screen display. The casio px360 is USB midi capable which can be useful in recording and transferring files.
Casio PX-160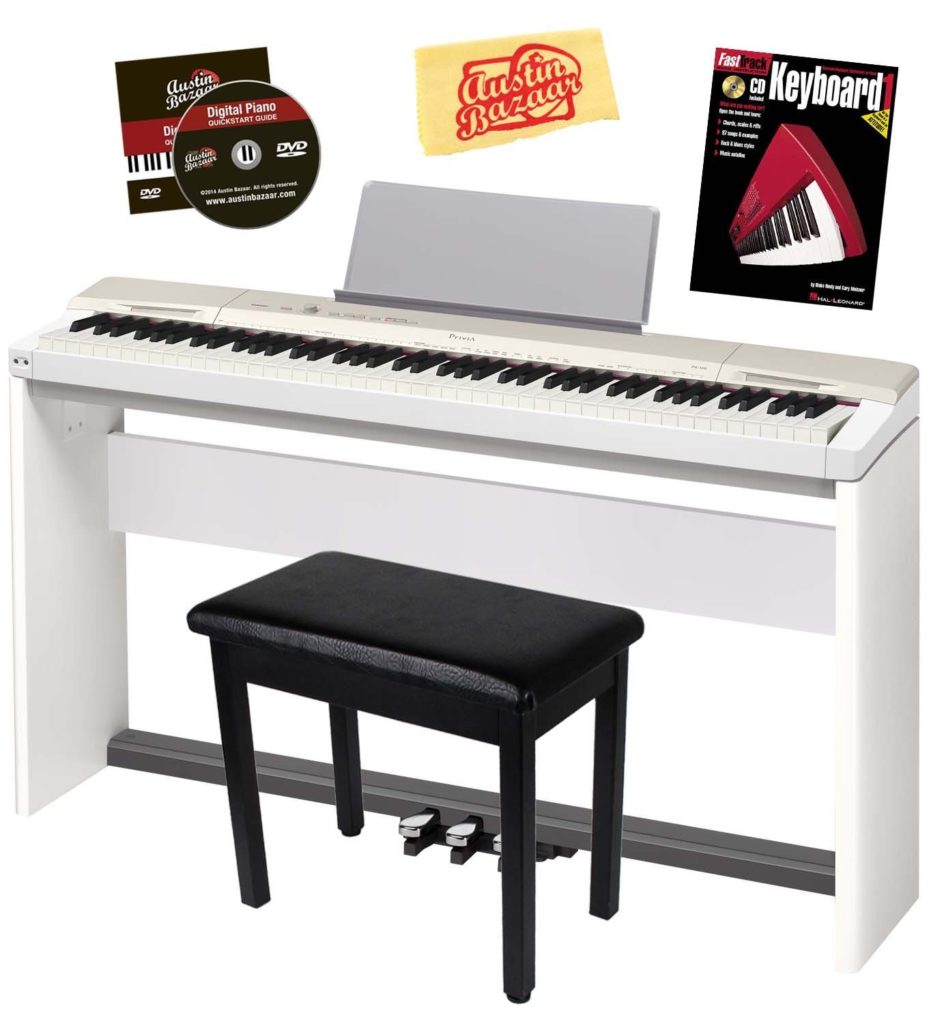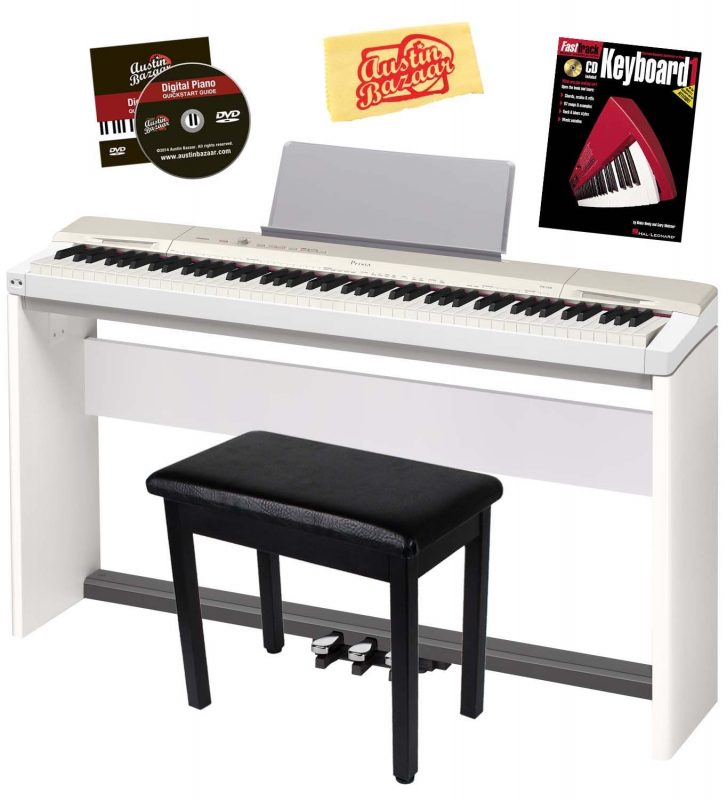 The CASIO PRIVIA PX-160 has advanced from its popular predecessor the PX-150 in terms of sound improvements and features. The unmatched AiR Sound technology and Triple Sensor Hammer 2 Action keyboard are still ahead in providing the best quality piano sounds at par with other high end models. The Casio PX160 has an updated more elegant look with 8-watts dual speaker system and 2 front headphone outputs for listening options. A provision to connect to an external speaker system is available for stage performances.
Casio PX-5s

The CASIO PX-5s boasts quality piano sounds and portability making this Casio the best when it comes to stage performance. Unique features such as tone editing, instrument sound samples and special effects are conducive to artistic players, budding music composers and creative piano playing. Still has the popular Casio feature such as the Triple Sensor Scaled Hammer Action II, this best casio portable digital piano will provide incredible genuine piano playing experience.
Casio Privia PX-150
The CASIO PRIVIA PX150 is the first model in this popular Casio digital piano line and still managed to wow many piano enthusiasts up to this day. The Casio PX-150 has the essential Tri Sensor Scaled Hammer Action like the newer models such as the Casio PX-850 but has only 128-note polyphony which is good enough for any piano player especially for the novice. The sleek look of this digital piano can be upgraded and customized in either classic black or pristine white professional finish. Featuring the exclusive Casio's Hammer Response and Damper Resonance Simulator and with an attractive price package at less than a thousand dollars, the casio px150 is truly value for money.
Buy Casio Privia PX-150 On Amazon
Casio Celviano AP-420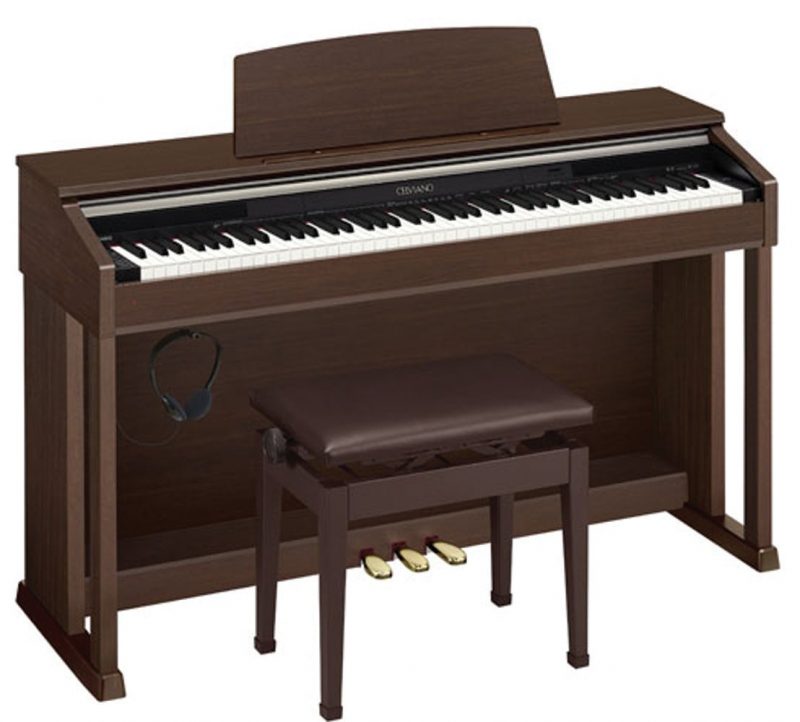 From its flashy black matt finish or in classic medium brown color, the CASIO CELVIANO CAP-420 got the classic look and feel of a real acoustic piano. The Casio AP420 weighs only 140 pounds and comes in a sturdy built which is ideal for moving or transporting in and out of the house. It got the same Casio 128 polyphony keys, a built-in metronome and packed with dual 40-watts speaker system for great sounding piano performance. The keyboard has a split option with 16-voice tones that will support creative piano playing. Onboard two-track recorder with USB connectivity and SD card option will allow recording and transfer of files seamlessly across PC and other digital devices.
Casio PX760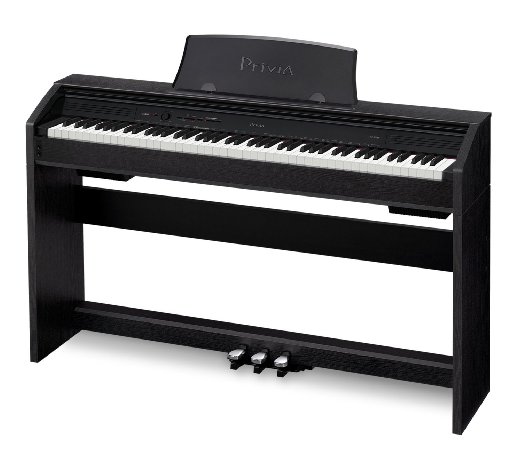 The CASIO PREVIA PX-760 boasts an impressive timbre that can easily impress piano purists who have innate ability to decipher genuine acoustic musical instrument. The PX760 produces pure piano sounds that can only come from its innovative Casio triple pedal damper resonance. Integrated with the latest feature "Concert Play" function will allow perfect piano performances. It also comes with 10 orchestral pieces that can be set to varying tempos allowing a user to practice any piano part. The Casio famous Tri-Sensor Scaled Hammer Action Keyboard II and Multi-Dimensional Morphing Air Sound Source will provide full acoustic piano experience.